Yale School of Public Health alumna Dechen Wangmo, M.P.H., '07, has been appointed Minister of Health of her homeland: the Himalayan Kingdom of Bhutan.
Wangmo is the lone woman among 10 new cabinet members appointed by newly elected Prime Minister Lotay Tshering following Bhutan's 2018 National Assembly Election.
An independent consultant in public health and social development for eight countries in Southeast Asia for the past 10 years, Wangmo is well-versed in the public health needs of Bhutan, a landlocked nation of about 800,000 people between China and India.
She is the founder and former executive director of the Bhutan Cancer Society and founding chairperson of Lhak-Sam, a civil society organization dedicated to promoting leadership, education and capacity building for people living with HIV.
In 2009, Wangmo visited 250 primary and secondary schools throughout the mountainous country to collect data on water and sanitation facilities as part of a public health survey for Bhutan's Ministry of Education and UNICEF. Her commitment to the project sometimes required her to hike several days to reach remote locations at altitudes of 12,500-feet (double the elevation of New Hampshire's Mount Washington). Wangmo also worked with Bhutan's Queen Mother Sangay Choden Wangchuck in promoting a national HIV/AIDS awareness, prevention and education campaign.
Wangmo will serve as a representative of the newly formed Druk Nyamrup Tshogpa party, which was ushered into government for the first time in Bhutan's third democratic election since the country ended absolute monarchy in 2008.
"As I take on this sacred responsibility to serve my country, I am humbled and touched by the confidence and trust placed on me by the party and the people of my constituency," Wangmo said via email.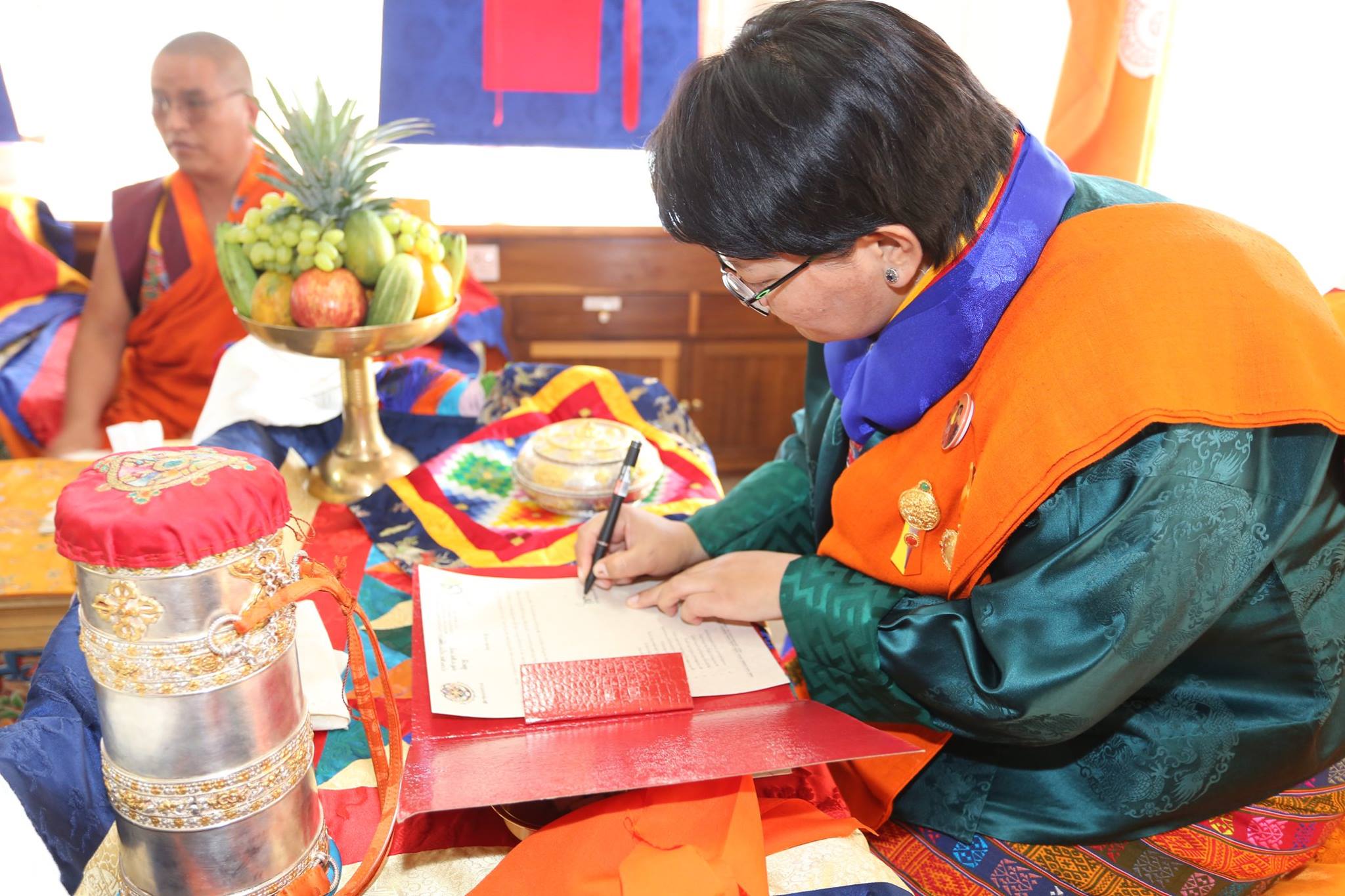 She credited her time at the Yale School of Public Health with helping her gain valuable perspective.
"My education at Yale has been an instrumental factor in what I have achieved over the last decade," said Wangmo, who holds a master's degree in public health with a focus on global health. "During my time at Yale, I learned the art of thinking globally and acting locally, where the knowledge and wisdom of the faculty provided the lens to see commonality and yet appreciate the differences in approaches to delivering public health services."
Wangmo will oversee a predominantly government-funded national health care system that has made significant gains over the past five decades. Bhutan had 194 doctors in 2012. It now has 345. Life expectancy in Bhutan has increased from 32.4 years in 1960 to 69.5 years in 2014. Universal childhood immunization was realized in 1990 and immunization levels remain steady at more than 95 percent. Leprosy and iodine deficiency disorders have been eliminated and significant progress has been made toward eliminating malaria.
Yet notable public health challenges remain.
One of the biggest concerns for Bhutan is an increase in non-communicable or chronic diseases such as heart disease, cancer, and kidney disease and their cost to the nation's health care system.
"We hope to focus on prevention of non-communicable diseases through targeted and comprehensive interventions," Wangmo said.
In a recent interview with a Bhutanese newspaper, Wangmo said she will be seeking creative approaches to addressing the country's public health issues. "We really want to look at innovative ways of looking into health matters, and not to do business as usual," Wangmo said in a Bhutanese press report published on Nov. 13.
Experts from the Yale School of Public Health, led by Associate Professor Kaveh Khoshnood, Ph.D. '95, M.P.H. '89, have been working closely with Bhutan officials to address the country's health concerns for several years. Since 2013, the school has collaborated with the Khesar Gyalpo University of Medical Sciences of Bhutan (KGUMSB) to support and promote health care education and research opportunities for both institutions. As part of that effort, Associate Professor Khoshnood, lecturer Mary Alice Lee, M.S.N., M.Phil, '91, Ph.D., '95; and research librarian Kate Nyham, earlier this year presented workshops on best research practices in collaboration with KGUMSB, Bhutan's Ministry of Health and the Bhutan Foundation. Yale representatives also took part in a recent meeting on the efficacy of Bhutan's Nomad Health Camps designed to bring critical health care services to remote regions in the country.
"The Yale School of Public Health is proud to be a partner in helping improve health outcomes for the people of Bhutan," Dean Sten Vermund said. "We look forward to working with Honorable Minister Dechen Wangmo, a Yale M.P.H. alumna from 2007, to explore and implement innovative approaches to Bhutan's public health challenges."
In Bhutan, both allopathic, or Western medicine, and traditional herbal-based medical practices are delivered under the same public health system. While free public health care is guaranteed under the country's constitution, disparities in health care access and health care quality among rural and urban areas remain a concern.
To address the issue, Wangmo is seeking to upgrade existing hospitals and create a new multi-disciplinary specialty hospital that will make specialized health care more accessible to everyone. She is also interested in improving working conditions for health care workers.
Ultimately, Wangmo will be leading one of the country's most essential institutions. The guiding governing philosophy of Bhutan's Buddhist society - Gross National Happiness – clearly indicates the importance of physical and mental well-being.
"Five years from now, we look forward to a healthier and happier nation," Wangmo said in the Bhutanese press. "I'm confident that we will be able to achieve it as we already have a hardworking and good team."
Submitted by Elisabeth Reitman on December 04, 2018