International case numbers as of April 20, 2020, 10:00 am
2,422,525 COVID-19 cases worldwide; 166,235 deaths; 635,895 recovered.1

There is a frequently updated map of COVID-19 cases online at https://coronavirus.jhu.edu/map.html.

The United States continues to have the highest number of COVID-19 cases in the world with 760,245 diagnosed cases.
Spain has the second highest number of cases with 200,210 cases and Italy has the third highest number of cases with 178,972 cases.

Deaths in multiple countries now exceed reported deaths in China. Deaths due to COVID-19 in Italy, Spain, France, the United Kingdom, the United States, Iran, and Belgium exceed China's reported total.
For the first time this month, new cases of COVID-19 in China have risen past the 100 cases per day marker. People arriving in China from Russia are driving the uptick in new cases.2
China revised their COVID-19 death toll in Wuhan to 3,869, a significant increase from the previous 1,290 deaths. This new total now includes deaths at home. Still, experts say that these official numbers are likely understated.3 Studies from China finds that the mortality rate in Wuhan for symptomatic individuals is 1.4%.4 The death risk estimate from Wuhan, China is likely to be similar to that seen in the US if our healthcare system experiences a breakdown similar to that of the healthcare system in Wuhan.5 This finding indicates that proactive public health interventions to reduce burden on hospitals and healthcare workers, including social distancing, increased personal hygiene, and voluntary movement restrictions, are essential to reducing transmission and fatality rates.

Epidemic curve of confirmed coronavirus cases worldwide by region (from European Centre for Disease Prevention and Control COVID-19 Situation Update, as of 4/20/2020).

Distribution of coronavirus deaths worldwide by region (from European Centre for Disease Prevention and Control COVID-19 Situation Update, as of 4/20/2020).6

US National case numbers as of April 20, 2020, 10:00 am
760,245 cases of coronavirus confirmed by lab tests, 40,690 deaths, and 71,003 recovered cases. 3,882,002 total tests have been conducted.7

New York has the highest number of confirmed cases at 248,431 followed by New Jersey at 85,301 cases and Massachusetts at 38,077 cases.
A new study on COVID-19 infection rates among women admitted to give birth in New York found that, in the two hospitals studied, 1 in 8 women tested positive for coronavirus. Of the total 215 pregnant women tested for COVID-19 between March 22 and April 4, nearly 14% tested positive for coronavirus but were asymptomatic. Only 2% of the women both tested positive and had coronavirus symptoms.8
Top US States with Diagnosed COVID-19 Cases as of April 20, 2020
| | | | |
| --- | --- | --- | --- |
| State | No. of Cases9 | Total Tests Conducted10 | % Pop. with COVID-19 |
| New York | 248,431 | 617,555 | 1.28 |
| New Jersey | 85,301 | 170,688 | 0.96 |
| Massachusetts | 38,077 | 162,241 | 0.55 |
| Pennsylvania | 32,991 | 158,854 | 0.26 |
| California | 31,531 | 280,900 | 0.08 |
| Michigan | 31,424 | 109,661 | 0.32 |
| Illinois | 30,357 | 143,318 | 0.24 |
| Florida | 26,314 | 260,724 | 0.12 |
Risk in population
A new study from the Lancet takes into account the undetected cases of COVID-19 to estimate a mortality rate of 0.66% in China.11
A study based on data from Wuhan estimates that the mortality rate of symptomatic COVID-19 cases is 1.4%. Those aged 60 and above were at a much greater risk of death than those aged 30-59 and the risk of symptomatic infection increased with age.12
The fatality rate estimate for COVID-19 has been very difficult to estimate as testing practices and availability vary widely between countries. In many areas, testing has only been given to the most severely ill patients and so many more cases of coronavirus likely have gone undetected.13
The fatality rate from data already available is 1.3% in people 50-59, 0.4% in people 40-49, and 0.18% in people 30 to 39. Those that are 29 and under face mortality rates 0.09% and under, and children ages 0-9 are estimated to experience mortality at rates below 0.01%.14 Data from the CDC shows that young adults ages 20-44 face a substantial risk of serious illness and hospitalization from the coronavirus.15
Laboratory Confirmed COVID-19 Cases, as of March 28
Laboratory Confirmed COVID-19 Cases, as of March 28

Age group (% includes lower and upper bounds) % of cases

0-19

20-44

45-54

55-64

65-84

≥85

% of fatal cases

0

0.1—0.2

0.5—0.8

1.4—2.6

2.7—10.5

10.4—27.3

% of hospitalized cases

0

1.6—2.5

14.3—20.8

21.2—28.3

28.6—58.7

31.3—70.3

% of the population

5.0

28.8

17.5

17.5

25.3

5.9
Data from the CDC continue to confirm that individuals with underlying conditions are at greater risk of experiencing severe outcomes as a result of COVID-19. However, the CDC has reiterated that measures should be taken to protect all persons, including those without underlying conditions.16
Hospitalization Rates and Characteristics of Patients Hospitalized with Laboratory-Confirmed Coronavirus Disease 2019 — COVID-NET (study area), 14 States, March 1–30, 2020)17
| | | |
| --- | --- | --- |
| | Population in Study Area | Hospitalization Rate |
| Female | 51% | 46% |
| Male | 49% | 54% |
| White | 59% | 45% |
| Black | 18% | 33% |
| Hispanic | 14% | 8% |
Initial findings from a CDC study of hospitalized patients diagnosed with COVID-19 suggest that male residents and black residents may face a disproportionately greater risk of being affected by and hospitalized due to coronavirus.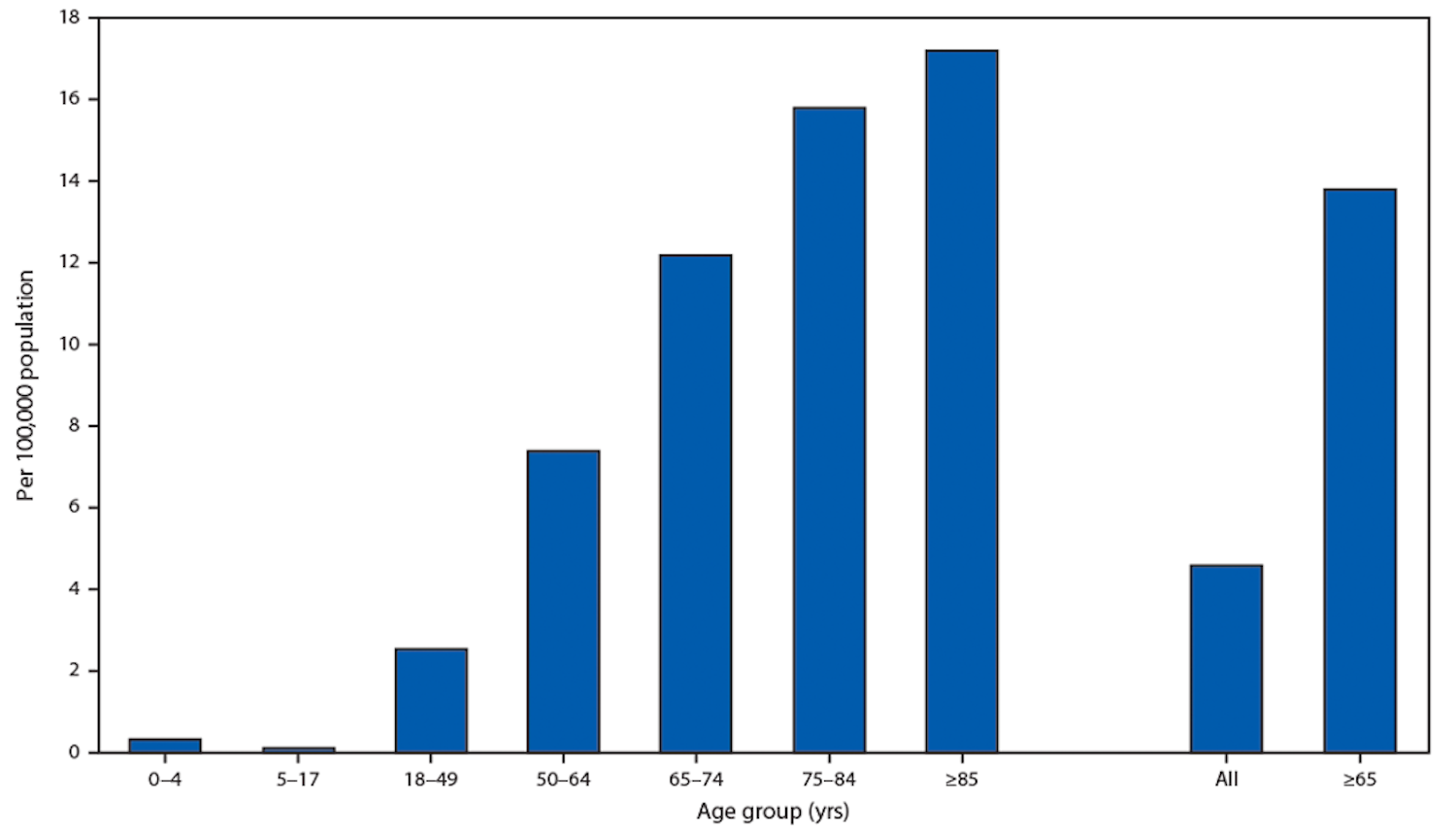 Laboratory-confirmed coronavirus disease 2019 (COVID-19)–associated hospitalization rates,* by age group — COVID-NET, 14 states, March 1–28, 202018
Elderly: The death rate in elderly adults aged 80 or older is very high and believed to be over 15% and possibly as high as 22%.19 Older adults (those over 60 and particularly those over 80) and those with serious chronic health conditions (including heart disease, diabetes, and lung disease) are at a higher risk of getting very ill due to COVID-19. 20
Children: Initial evidence suggests that children seem to be getting infected at the same rate as adults but have milder symptoms.21 In China only 2.4% of all cases are in young children.22 However, a new study of more than 2,000 children in China suggests that children may be more susceptible to coronavirus than previously thought. One third of the children included in the study were confirmed cases while the other two-thirds were suspected cases.23
Health care workers, home health aides, first responders, and teachers are among those at greatest risk of contracting coronavirus as a result of their job.24
Those that work in lower-income jobs may also face increased risk as the ability to work from home may not be feasible-- only 9.2% of those in the bottom income quartile (lowest 25% income earners) are able to work from home while 20.1% of those in the third income quartile (second-lowest, 25-50% incomes earners) are able to work from home.25
New US developments
New York reported its lowest single-day death toll in over two weeks at 478 deaths on April 20th, 2020.
Protests are popping up around the country/worldwide as people call for restrictions to be lifted so they can return to work.26 Experts say that the US would have to sharply ramp up testing among other benchmarks to reopen the economy.27
A number of antibody tests to detect previous COVID-19 infection and thus possible immunity are beginning to become available. These tests may be the next step to determining who could be allowed to return to work.28 As antibody tests are beginning to be used around the country, many are inaccurate or are being misused. A lack of FDA guidance is causing further confusion.29 The WHO warns that such antibodies tests may only indicate if an individual previously had the COVID-19 virus, not if they have protection from being infected again.30
US jobless claims continue to rise and now exceed 22 million.31
President Trump suspends funding the World Health Organization and alleges that they did not properly manage the pandemic in the early months.32
One of the world's largest pork producers, Smithfield Foods, is indefinitely suspending work at one of its US plants after 240 of the plant's 3,700 employees tested positive for the virus.33 This closure among many others in the US could result in a serious meat shortage.34 Their Sioux City South Dakota plant has at least 640 cases and is now the country's biggest COVID-19 hotspot.35 Cases are not restricted to plant employees and their household contacts, but is now widespread across Sioux City.36
With almost 2,500 long-term care facilities reporting COVID-19 cases, the death toll in these facilities is now more than 2,000 and expected to continue to rise.37
Minority and marginalized groups are especially vulnerable to COVID-19. Working-class immigrant neighborhoods such as Queens, New York have been devastated by the pandemic.38 Black Americans are dying at disproportionately high rates such in Louisiana where they represent a third of the population but 70% of those who have died.39
The CDC now recommends the use of Face Cloth Coverings to help stop the spread of COVID-19. Face cloth coverings should be worn in public settings where it is difficult to practice social distancing. 40
There is increasing concern about the accuracy of COVID-19 testing in the US. Although data is currently limited but based on personal experience with patients, some doctors believe that ~30% of those who receive a negative test may actually be infected.41
The US Treasury and IRS delay the tax payment deadline by 90 days.42
Known cases in Connecticut (call 211 or text "CTCOVID" to 898211 for information)
As of April 19, 2020 there are 17,962 (+412 from the day before) confirmed cases, 1,901 hospitalizations, and 1,127 deaths. 59,759 patients have been tested in the state.43
Fairfield County: 7,434 cases, 447 deaths
Hartford County: 3,351 cases, 295 deaths
Litchfield County: 600 cases, 48 deaths
Middlesex County: 462 cases, 40 deaths
New Haven County: 4,871 cases, 257 deaths
New London County: 339 cases, 10 deaths
Tolland County: 276 cases, 24 deaths
Windham County: 100 cases, 2 death
Pending address validation: 529 cases, 4 deaths
Increases in Cases and Deaths in CT with Percent Increase from Previous Reporting Period:
County

April 20

April 16

April 13

April 9

Fairfield

Cases (% increase)

Deaths (% increase)

7,434 (14.7)

447 (22.5)

6,480 (17.1)

365 (28.5)

5,534 (25.3)

284

4,417

Hartford

Cases (% increase)

Deaths (% increase)

3,351 (30.0)

295 (38.5)

2,579 (34.7)

213 (83.6)

1,914 (48.4)

116

1,290

Litchfield

Cases (% increase)

Deaths (% increase)

600 (22.4)

48 (37.1)

490 (21.6)

35 (45.8)

403 (38.0)

24

292

Middlesex

Cases (% increase)

Deaths (% increase)

462 (21.9)

40 (42.9)

379 (26.8)

28 (55.6)

299 (71.8)

18

174

New Haven

Cases (% increase)

Deaths (% increase)

4,871 (29.6)

257 (31.8)

3,758 (27.6)

195 (63.9)

2,946 (51.5)

119

1,945

New London

Cases (% increase)

Deaths (% increase)

339 (43.6)

10 (42.9)

236 (24.2)

7 (0.0)

190 (58.3)

7

120

Tolland

Cases (% increase)

Deaths (% increase)

276 (27.8)

24 (9.1)

216 (18.9)

22 (29.4)

182 (42.2)

17

128

Windham

Cases (% increase)

Deaths (% increase)

100 (12.4)

2 (100.0)

89 (34.8)

1 (0.0)

66 (34.7)

1

49



Graphs from Connecticut COVID-19 Update, April 19, 2020.44

As of April 17, 2020 Yale New Haven Health has 437 (+60) COVID-19 patients.
109 (-2) patients are in the ICU and another 69 (-1) patients are on ventilators.
Patients that do not require ICU care have, on average, stayed for 6 days in the hospital.
YNNH currently has sufficient face masks but needs more PPE gowns.
As of April 10, 5.7% of COVID-19 patients admitted to YNNH have died.
All patients admitted that needed extracorporeal membrane oxygenation (ECMO), a system that oxygenates blood outside of the body to let a patient's heart and lungs rest, have died.
Compared to influenza patients who are on ventilators, more COVID-19 patients are on prolonged support.
Two empty floors at the top of Smilow Cancer Center tower of YNHH have been opened up to accommodate the new CoV patients.
Contact tracing

~30 cases from Yale Health have had a contact tracing interview
~106 contacts have been identified
~64 contacts with sufficient information have had notification initiated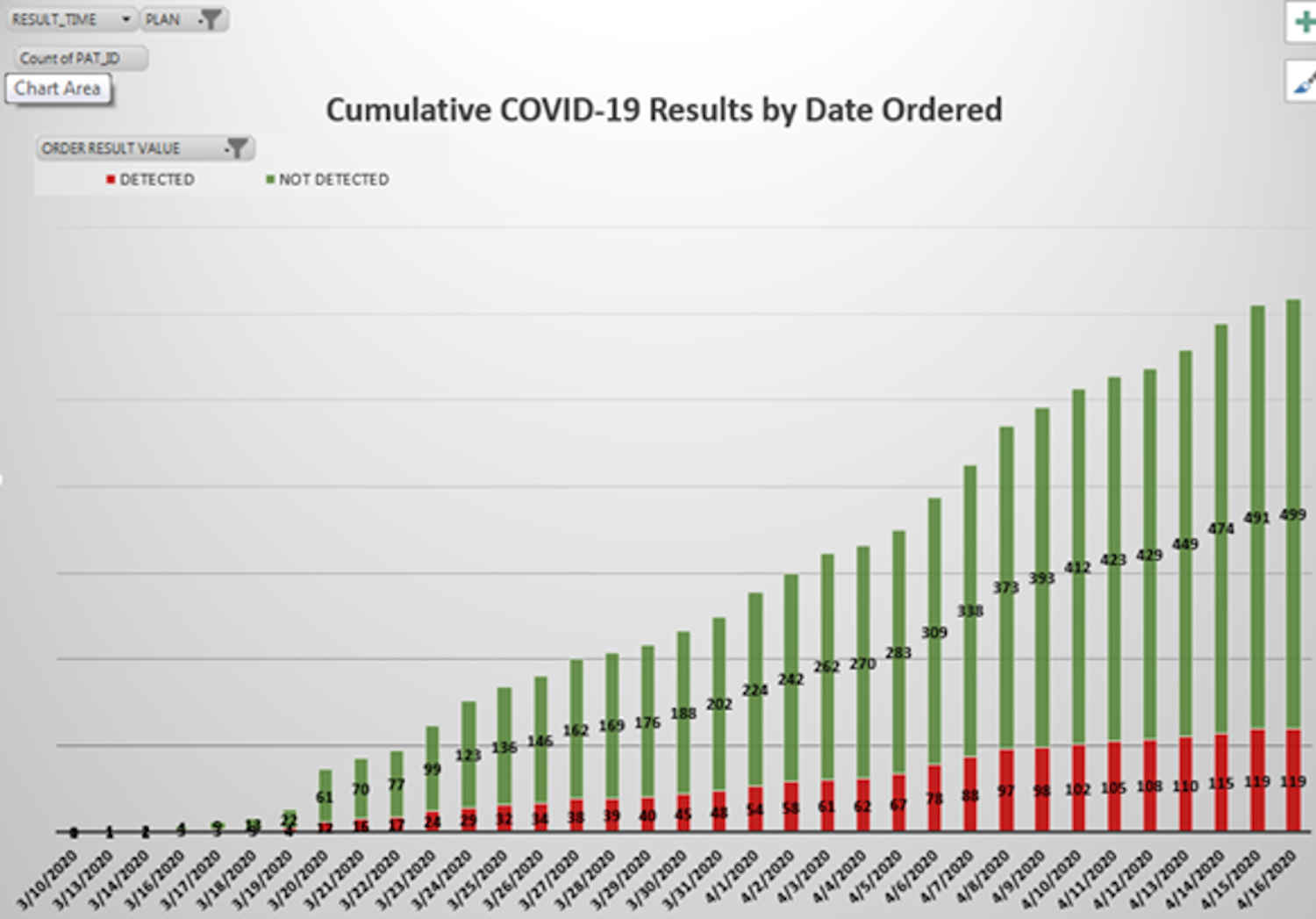 Cumulative COVID-19 test results from Yale New Haven Health, as of 4/16/2020.
Connecticut developments45
Governor Lamont signed an executive order requiring the use of face masks or coverings in public where close contact is unavoidable.46
COVID-19 related hospitalizations decreased for the second day in a row on Saturday, April 18, with 37 fewer cases reported than the day before.
Governor Lamont has extended Connecticut's shutdown of schools and nonessential businesses until May 20.47
Mandatory rent relief was instituted in the state. For rent due in April, landlords are required to grant a 60-day grace period for payment. The same grace period applies for rent in May, but renters are required to notify their landlord first. Additionally, no evictions can occur until July 1 unless due to a safety concern.48
Yale launched a multimillion dollar fund to aid New Haven and will match dollar for dollar towards its $5 million goal.49
Professor Marie-Louise Landry at the Yale School of Medicine and her lab have established their own test for SARS-CoV-2 with the help of YSPH researcher Dr. Nate Grubaugh. Her clinical lab tested 752 patient samples from 3/13 to 3/21. They have been able to keep up and report results the same day samples are received.50
Known cases in Rhode Island (call 401-222-8022 for information)
As of April 19, 202051
4,706 confirmed cumulative cases (+1,177 from 4/15/20)
34,699 total tests conducted
254 patients currently hospitalized
70 patients currently in ICU
150 deaths in the state

Graph from Rhode Island Department of Health COVID-19 Disease Data dashboard as of 4/20/2020.52
Rhode Island developments53
On Sunday, Governor Raimondo announced that Rhode Island will open a walk-up COVID-19 testing site in the parking lot of the Robert L. Bailey IV Elementary School in Providence. The location was chosen in order to be accessible to Rhode Island's Latinx population, as 45% of the people that tested positive for coronavirus in the state are Latinx.54
Governor Raimondo issued an executive order requiring all employees to wear masks while at their place of business. The governor's office conducted spot checks for compliance on April 19 and reported that compliance was high. Additionally, Governor Raimondo has ordered that all people must wear cloth face coverings while in public.55
All cars with out of state license plates are being asked to participate in voluntary checks when they enter Rhode Island. If visitors from out of state are planning to stay in Rhode Island, they are being asked to self-quarantine for 14 days and are also being asked to provide their name, phone number, and the address they are staying in the state to ensure that they are self-quarantining. The measure is intended to reduce the transmission of coronavirus from those visiting Rhode Island.56
The Rhode Island Department of Business Regulations is requesting that stores currently open to the public restrict the number of shoppers in their building to 20% of the posted Fire Marshal Capacity at any given time. This restriction is meant to reduce coronavirus spread as well as allow shoppers to maintain adequate social distance from one another while shopping.57
Starting March 23, all public schools in Rhode Island will implement distance learning.58
Key international developments
Countries such as South Korea and Germany, who took early actions against COVID-19, are beginning to lift restrictions as they reopen their countries. New Zealand, in contrast, despite promising containment signs has further extended its lockdown for another week in an abundance of caution.59
Singapore's coronavirus caseload more than doubled over the past few days, with more than 8,000 cases confirmed as of Monday, April 20. Most of the new infections are within dormitories primarily occupied by migrant workers, which had previously been overlooked by government testing.60
India's Prime Minister Modi extended the country's lockdown of more than 1.3 billion residents through May 3rd. Only essential services are still open and residents are forbidden from leaving their homes.61 India is beginning to lift certain restrictions on mostly agriculture business that are essential to avoiding food shortages.62
Germany will begin to gradually reopen next week with non-essential business resuming operations and schools gradually resuming classes on May 4th. However, experts fear that any missteps in the process could lead to a rise in COVID-19 cases.63
A French court banned Amazon from delivering anything other than "essential materials" – food, hygiene and medical products – after a ruling in a case brought by labor unions contesting that Amazon in France was not providing factory workers with sufficient protective gear. Amazon has chosen to suspend operations rather than face potential €1M daily fine for noncompliance.64
At the forefront of testing, Ireland has tested more than 10% of its population leading to new insight. Their randomized testing revealed that 0.3-0.8% of their population is infected and of those who test positive, half are either pre-symptomatic or without symptoms.65
Leaders of Belarus, Turkmenistan, Nicaragua, and Brazil continue to deny the major health threat of the COVID-19 pandemic. Brazil's President Bolsonaro in particular is encouraging citizens to ignore public health guidelines such as social distancing.66
A small study (81 patients) on chloroquine in Brazil has been halted after COVID-19 patients taking a higher dose of the drug developed irregular heart rates, increasing their risk for potentially fatal heart arrhythmia. A number of studies testing lower doses of chloroquine are still in progress. Although more research needs to be done, the study indicates there could be a dose-response relationship between chloroquine and abnormal ECGs. Chloroquine has been advocated for by President Trump as a possible treatment for COVID-19. 67
As COVID-19 spreads around the world, developing countries may be less prepared to deal with the pandemic than developed countries because of a lack of resources, general hygiene, and overcrowding.68
The EU has linked Russian media outlets to disinformation about the coronavirus. The EU-produced report states that the disinformation seeks to undermine public trust in health care systems abroad.69
What is coronavirus?
Coronavirus is a family of viruses that have been known to infect humans. Viruses in the family are known to cause the common cold, SARS, and MERS. The virus that causes COVID-19 infects people and is easily spread person-to-person but is far less virulent than SARS. Cases have been detected in most countries worldwide, including the United States, and has officially been declared a pandemic, or a global disease outbreak. COVID-19 causes a respiratory disease that may be identifiable by dry coughing, breathing difficulties, and fever. Those that suspect they are infected with coronavirus should call their health provider first and should not go to a health care facility unless directed to do so.
Nomenclature
The novel (new) coronavirus, formally named "SARS-CoV-2," and the disease it causes has been named "coronavirus disease 2019" (abbreviated as COVID-19) by the World Health Organization.
Is there a vaccine?
A phase 1 clinical trial for a vaccine designed by Moderna to protect against COVID-19 is currently underway in Seattle.70 Vaccines must go through at least 3 clinical phases to ensure their efficacy and safety before they can be approved and used in the general population.71 Even with an expedited process it will be at least a year before a COVID-19 vaccine is fully developed and made available to the public.72 Johnson and Johnson will start human testing of their COVID-19 vaccine in September, to be ready for emergency use by early 2021. The vaccine would be sold on a not-for-profit basis.73
What is a vaccine?
Vaccines are one of the most effective ways to prevent diseases. Vaccines are made out of killed or weakened parts of the virus or bacteria of interest. Once inside the body, the vaccine is able to stimulate the immune system to develop antibodies and thus immunity to the disease, all without the person getting the disease.74
The vaccine currently being developed by Moderna uses genetic information, messenger RNA (mRNA), to deliver the vaccine. mRNA vaccines are an emerging platform and as of now no mRNA vaccine has reached the market. Compared to some forms of traditional vaccines (DNA-based, live/killed attenuated viruses), mRNA vaccines are thought to be safer because they are non-infectious and have no risk of potentially mutating inside the human body. Through chemical modifications mRNA is stabilized and readily enters into cells. Lastly, mRNA vaccine production is inexpensive, fast, and scalable.75
Why did the CDC recommend an 8-week moratorium on in-person gatherings?
On Monday the US government officially recommended that people should avoid in-person gatherings of 10 or more people.76 This recommendation is supported by evidence from South Korea and China, both of which appear to slowly be returning to life as normal after 8 weeks of anti-coronavirus measures.77 On March 10, China closed the last of its temporary emergency hospitals78 after seeing a dramatic decrease in new cases over the past couple of weeks.79 Likewise, South Korea has experienced a substantial decrease in new cases over the past week.80
As the United States contends with this new and evolving situation, it appears likely that many businesses, offices, and schools will remain closed for longer than two weeks.
Information highlights from CDC website81
Symptoms

Symptoms may appear 2-14 days after exposure.
Fever
Cough
Shortness of breath

Mounting anecdotal evidence suggests that a loss of smell and taste are significant symptoms associated with COVID-19. 82
Testing83

As of March 15, all 50 states, the District of Columbia, and Guam have successfully verified COVID-19 diagnostic tests in state and local public health laboratories.
A number of states have opened "drive-through" coronavirus testing stations with more to come.84
The number of tests still lags far behind need. The governors of many states have complained that the federal government's response in making tests available has been inadequate.85
How is coronavirus spread?86
Person-to-person
Between people who are in close contact with one another (within about 6 feet).
Through respiratory droplets produced when an infected person coughs or sneezes.

Respiratory droplets can spread through the air (6 feet) or land on nearby surfaces where they can survive for a period of time ("Our studies indicate that aerosol and fomite transmission of HCoV-19 is plausible, as the virus can remain viable in aerosols for multiple hours and on surfaces up to days.")87
Guidelines from the CDC to Minimize Chances of Infection88
Clean your hands often

Wash your hands often with soap and water for at least 20 seconds especially after you have been in a public place, or after blowing your nose, coughing, or sneezing.
If soap and water are not readily available, use a hand sanitizer that contains at least 60% alcohol. Cover all surfaces of your hands and rub them together until they feel dry.
Avoid touching your eyes, nose, and mouth with unwashed hands.

Avoid close contact

Avoid close contact with people who are sick
Put distance between yourself and other people if COVID-19 is spreading in your community. This is especially important for people who are at higher risk of getting very sick.

Take steps to protect others

Stay home if you're sick
Stay home if you are sick, except to get medical care. If you think you may have contracted the virus call your doctor first.

Cover coughs and sneezes

Cover your mouth and nose with a tissue when you cough or sneeze or use the inside of your elbow.
Throw used tissues in the trash.
Immediately wash your hands with soap and water for at least 20 seconds. If soap and water are not readily available, clean your hands with a hand sanitizer that contains at least 60% alcohol.

Wear a facemask

If you are sick: You should wear a facemask when you are around other people, when you go out in public, and before you enter a healthcare provider's office. People who are caring for you should wear a facemask if they enter your room.
If you are NOT sick: The CDC recommends that all people who are not sick wear a cloth face covering in public settings where other social distancing measures are difficult to maintain, such as grocery stores and pharmacies. Wearing a cloth face covering in public is especially important in areas with significant community-based transmission.

Clean and disinfect

Clean AND disinfect frequently touched surfaces daily. This includes tables, doorknobs, light switches, countertops, handles, desks, phones, keyboards, toilets, faucets, and sinks.
If surfaces are dirty, clean them: Use detergent or soap and water prior to disinfection.
1 https://coronavirus.jhu.edu/map.html
2 https://www.nytimes.com/2020/04/13/world/coronavirus-news.html#link-715746e3
3 https://www.nytimes.com/2020/04/17/world/asia/china-wuhan-coronavirus-death-toll.html
4 https://www.nytimes.com/2020/03/19/health/wuhan-coronavirus-deaths.html
5 https://wwwnc.cdc.gov/eid/article/26/6/20-0233_article
6 https://www.ecdc.europa.eu/en/geographical-distribution-2019-ncov-cases
7 https://coronavirus.jhu.edu/map.html
8 https://www.nejm.org/doi/full/10.1056/NEJMc2009316?query=featured_coronavirus
9 https://coronavirus.jhu.edu/map.html
10 https://covidtracking.com/data
11 https://www.eurekalert.org/pub_releases/2020-03/tl-pss_1033020.php
12 https://www.nature.com/articles/s41591-020-0822-7
13https://www.npr.org/sections/goatsandsoda/2020/03/27/821958435/why-death-rates-from-coronavirus-can-be-deceiving
14https://nymag.com/intelligencer/2020/03/coronavirus-and-its-high-mortality-rate-among-older-patients.html
15 https://www.cdc.gov/mmwr/volumes/69/wr/mm6912e2.htm?s_cid=mm6912e2_w
16 https://www.cdc.gov/mmwr/volumes/69/wr/mm6913e2.htm
17 https://www.cdc.gov/mmwr/volumes/69/wr/mm6915e3.htm
18 https://www.cdc.gov/mmwr/volumes/69/wr/mm6915e3.htm
19 https://www.nytimes.com/2020/03/14/health/coronavirus-elderly-protection.html
20https://www.businessinsider.com/coronavirus-death-rate-by-age-countries-2020-3#still-older-patients-in-south-korea-also-had-a-much-higher-death-rate-than-younger-ones-patients-older-than-80-had-a-72-death-rate-as-of-wednesday-6
21 https://www.nature.com/articles/s41591-020-0817-4
22https://www.washingtonpost.com/health/2020/03/10/coronavirus-is-mysteriously-sparing-kids-killing-elderly-understanding-why-may-help-defeat-virus/
23 https://www.nytimes.com/2020/03/17/health/coronavirus-childen.html
24 https://www.nytimes.com/interactive/2020/03/15/business/economy/coronavirus-worker-risk.html
25 https://www.bls.gov/news.release/flex2.t01.htm
26 https://www.wsj.com/articles/fed-up-with-staying-home-some-americans-push-back-11587128401
27 https://www.nytimes.com/2020/04/06/upshot/coronavirus-four-benchmarks-reopening.html
28 https://www.nytimes.com/2020/04/02/health/coronavirus-antibody-test.html
29https://www.nytimes.com/2020/04/19/us/coronavirus-antibody-tests.html?action=click&module=Spotlight&pgtype=Homepage
30 https://www.bbc.com/news/uk-52335210
31https://www.nytimes.com/2020/04/16/business/economy/coronavirus-unemployment-claims.html
32https://www.washingtonpost.com/world/after-trump-suspends-payments-to-who-other-countries-rally-behind-the-agency/2020/04/15/1a2ec7c6-7f0e-11ea-84c2-0792d8591911_story.html
33 https://www.cnn.com/2020/04/12/business/meat-plant-closures-smithfield/index.html
34https://www.reuters.com/article/us-health-coronavirus-usa-meatpacking/smithfield-shutting-u-s-pork-plant-indefinitely-warns-of-meat-shortages-during-pandemic-idUSKCN21U0O7
35 https://www.nytimes.com/2020/04/15/us/coronavirus-south-dakota-meat-plant-refugees.html
36https://www.argusleader.com/story/news/business-journal/2020/04/14/coronavirus-sioux-falls-stores-plants-others-reporting-positive-cases/2988207001/
37https://www.nbcnews.com/news/us-news/more-2-200-coronavirus-deaths-nursing-homes-federal-government-isn-n1181026
38https://www.nytimes.com/2020/04/09/nyregion/coronavirus-queens-corona-jackson-heights-elmhurst.html
39 https://www.nytimes.com/2020/04/07/us/coronavirus-race.html
40 https://www.cdc.gov/coronavirus/2019-ncov/prevent-getting-sick/diy-cloth-face-coverings.html
41 https://www.wsj.com/articles/questions-about-accuracy-of-coronavirus-tests-sow-worry-11585836001
42 https://www.cnbc.com/2020/03/17/treasury-and-irs-to-delay-tax-deadline-by-90-days.html
43 https://portal.ct.gov/coronavirus
44 https://portal.ct.gov/-/media/Coronavirus/CTDPHCOVID19summary4052020.pdf?la=en
45https://www.nhregister.com/news/coronavirus/article/Coronavirus-in-Connecticut-Live-updates-hour-by-15132401.php
46https://portal.ct.gov/-/media/Office-of-the-Governor/Executive-Orders/Lamont-Executive-Orders/Executive-Order-No-7BB.pdf
47https://www.courant.com/coronavirus/hc-news-coronavirus-updates-0410-20200410-bzxojexxy5fxpolmppsb6uieuy-story.html
48https://www.wtnh.com/news/health/coronavirus/governor-lamont-announces-relief-for-those-struggling-to-pay-rent-during-pandemic/
49https://www.nhregister.com/news/coronavirus/article/Yale-launches-multimillion-dollar-fund-to-aid-New-15162549.php
50 https://medicine.yale.edu/profile/marie_landry/
51 https://health.ri.gov/data/covid-19/
52 https://ri-department-of-health-covid-19-data-rihealth.hub.arcgis.com/
53 https://www.wpri.com/coronavirus/
54 https://patch.com/rhode-island/cranston/ri-coronavirus-walk-testing-site-open
55 https://www.wpri.com/health/coronavirus/compliance-terrific-for-ri-face-coverings-order/
56https://www.politico.com/states/new-york/albany/story/2020/03/29/rhode-island-ends-restrictions-on-new-yorkers-1269535
57 https://www.wpri.com/health/coronavirus/new-guidelines-released-to-limit-crowds-at-ri-stores/
58 https://www.necn.com/news/local/ri-gov-to-provide-update-on-coronavirus-response/2247461/
59https://www.theguardian.com/world/2020/apr/20/new-zealand-plans-to-ease-coronavirus-lockdown-in-a-week
60 https://www.nytimes.com/2020/04/20/world/asia/coronavirus-singapore.html
61https://www.npr.org/sections/coronavirus-live-updates/2020/04/14/833879207/india-extends-total-lockdown-by-nearly-three-weeks
62https://www.bbc.com/news/world-asia-india-52350544?at_custom4=A12D84D8-82BF-11EA-9093-E0AE4744363C&at_custom3=%40BBCWorld&at_custom2=twitter&at_campaign=64&at_medium=custom7&at_custom1=%5Bpost+type%5D
63https://www.wsj.com/articles/germany-to-begin-gradually-reopening-its-economy-next-week-11586989014
64 https://www.nytimes.com/2020/04/15/business/amazon-france-covid.html
65https://www.marketwatch.com/story/iceland-finds-that-half-its-citizens-with-coronavirus-have-shown-no-symptoms-2020-04-10
66 https://www.economist.com/the-americas/2020/04/11/jair-bolsonaro-isolates-himself-in-the-wrong-way
67 https://www.nytimes.com/2020/04/12/health/chloroquine-coronavirus-trump.html
68https://www.wsj.com/articles/coronavirus-is-advancing-on-poor-nations-and-the-prognosis-is-troubling-11585149183
69 https://www.theguardian.com/world/2020/mar/18/russian-media-spreading-covid-19-disinformation
70https://www.nih.gov/news-events/news-releases/nih-clinical-trial-investigational-vaccine-covid-19-begins
71 https://www.cdc.gov/vaccines/basics/test-approve.html
72 https://www.nytimes.com/2020/03/16/health/coronavirus-vaccine.html
73https://www.wsj.com/articles/johnson-johnson-to-begin-human-trials-on-covid-19-vaccine-by-september-11585569380
74 https://www.cdc.gov/vaccines/vpd/vpd-vac-basics.html
75 https://www.ncbi.nlm.nih.gov/pmc/articles/PMC5906799/
76https://www.whitehouse.gov/wp-content/uploads/2020/03/03.16.20_coronavirus-guidance_8.5x11_315PM.pdf
77 https://www.nytimes.com/2020/03/17/opinion/coronavirus-social-distancing-effect.html
78 http://www.xinhuanet.com/english/2020-03/10/c_138863160.htm
79 https://www.worldometers.info/coronavirus/country/china/
80 https://www.worldometers.info/coronavirus/country/south-korea/
81 https://www.cdc.gov/coronavirus/2019-ncov/symptoms-testing/index.html
82https://www.nytimes.com/2020/03/22/health/coronavirus-symptoms-smell-taste.html?smtyp=cur&smid=tw-nytimes
83https://www.cdc.gov/coronavirus/2019-ncov/cases-updates/testing-in-us.html?CDC_AA_refVal=https%3A%2F%2Fwww.cdc.gov%2Fcoronavirus%2F2019-ncov%2Ftesting-in-us.html
84 https://www.businessinsider.com/drive-through-coronavirus-tests-states-2020-3
85 https://www.nytimes.com/2020/04/06/health/coronavirus-testing-us.html?action=click&module=Spotlight&pgtype=Homepage
https://www.nytimes.com/2020/04/05/us/coronavirus-aid-governors-pearl-harbor.html?action=click&module=Well&pgtype=Homepage§ion=US%20News
86 https://www.cdc.gov/coronavirus/2019-ncov/prepare/transmission.html
87 https://www.medrxiv.org/content/10.1101/2020.03.09.20033217v1.full.pdf
88 https://www.cdc.gov/coronavirus/2019-ncov/prepare/prevention.html
Submitted by Denise Meyer on April 21, 2020