Advocating for stronger gun safety policies is one way to broaden political and community support to reduce gun violence in the United States, Yale School of Public Health Dean Sten H. Vermund said at a public forum Sunday.
Recognizing the deeply held beliefs of gun rights advocates and the polarizing nature of the gun control debate, Dean Vermund said he has begun to modulate his vocabulary in an attempt to have a more constructive dialogue.
"When I'm speaking to someone who doesn't agree with me, I've started to use the term 'gun safety' because I believe gun safety is something a pediatrician and public health official has every right to talk about," said Vermund, an epidemiologist and pediatrician. "I think gun safety might be a place where we can come together to have a conversation."
Vermund was one of four panelists speaking at a seminar titled "Gun Violence as a Public Health Crisis," held Sunday afternoon at the Unitarian Society of New Haven (USNH) in Hamden. About 100 people attended the discussion, which looked at the issue of gun violence in Connecticut and ways violence can be addressed through legislation and community action.
"We need to remember to use what we learn to bring about change for the sake of our community and for the sake of our nation," said Roye Anastasio, a member of the USNH Preventing Gun Violence Task Force, which sponsored the event. "We can't afford to be cowed any longer by the voice of the NRA. They may have money, but we have the majority of the people on our side and we can arm ourselves with our knowledge and our passion and we really need our voices consistently out there."
Anastasio said 67% of the public wants safer gun laws "but it isn't just enough to know the statistics. Policy makers have to hear from us constantly."
Others on Sunday's panel included Jeremy Stein, executive director of Connecticut Against Gun Violence; Brent Peterkin, statewide coordinator for Project Longevity, a Connecticut initiative dedicated to reducing gun violence; and Dr. Kathleen O'Neill, who is completing her residency in general surgery at Yale New Haven Hospital and who is conducting research on gunshot wound survivors and assisting with the implementation of a hospital-based violence intervention program at the hospital.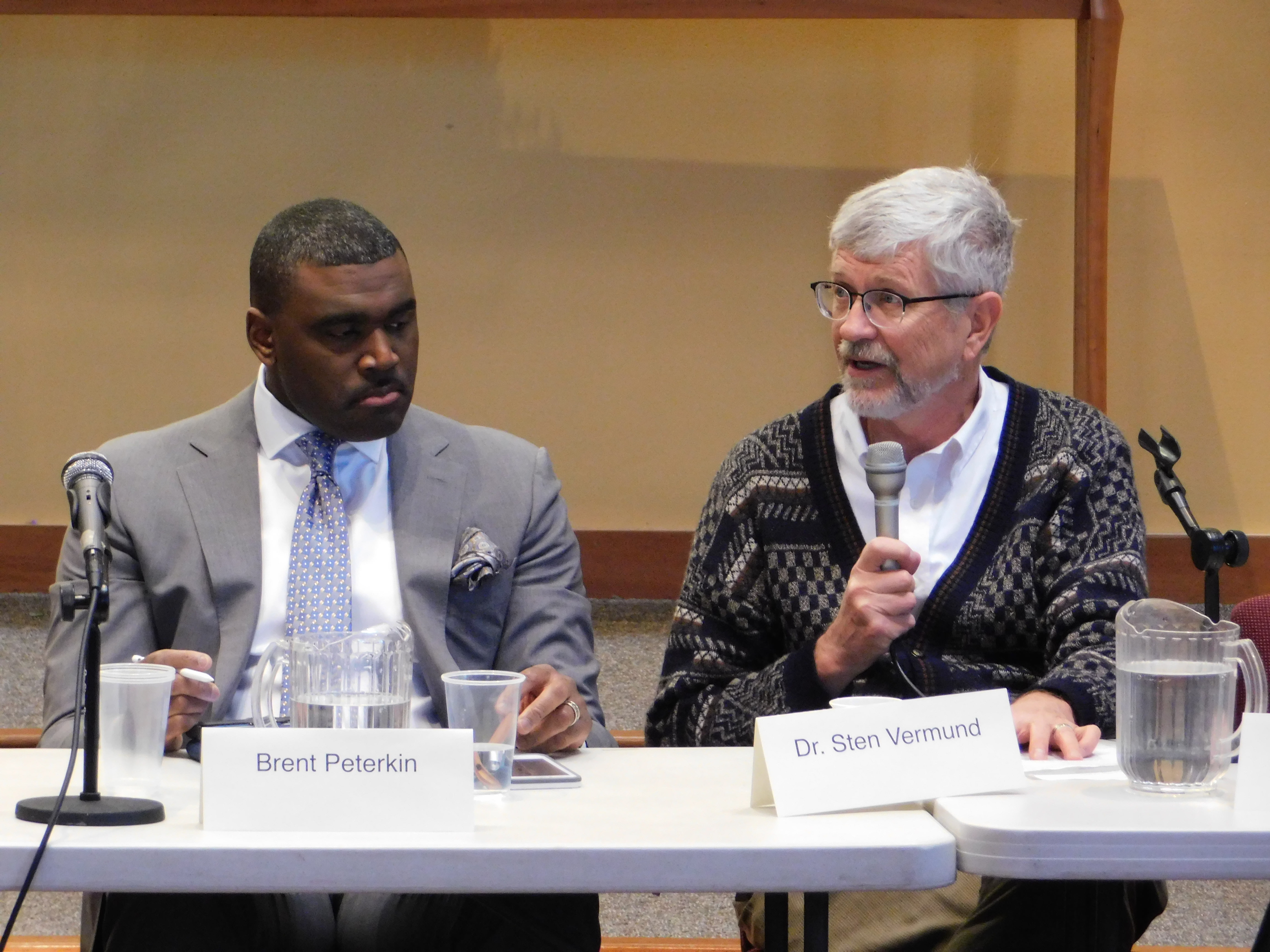 All of the panelists agreed gun violence is clearly a public health issue. Gun violence, they said, remains a leading cause of premature death in the United States, where guns kill more than 38,000 people and cause nearly 85,000 injuries each year.
"If we give people flu shots to prevent them from dying of the flu, why don't we do the same thing and take action to prevent individuals dying from gun violence," said Stein. "Gun violence is killing off our children, killing off our population just like a disease."
The panelists also voiced their concerns about the broader impact of gun violence on communities that grapple with the threat every day. Peterkin called it "perpetual traumatic stress disorder."
"Given there are so many guns on the street, what can we do to make it safer for people who live among these guns in our society?" said O'Neill, stressing the public health aspect of the crisis.
Stein said people often forget the bigger picture.
"We forget about the lasting effects of gun violence," said Stein. "I'm not just talking about a shooting, I'm talking about lack of services for people who are dealing with gun violence. What is being provided to kids who live with gun violence every day? We need to think of this as a public health issue."
As he was speaking, Stein noted that he had just received a text that a second survivor of the mass shooting at Marjory Stoneman Douglas High School in Parkland, Florida had committed suicide.
Access to guns and a prevalence of guns in America is a huge part of the problem, the panelists said.
"Americans represent 4.4% of world population, yet we own 50% of the globe's firearms," Vermund said. "The presence of guns and access to guns is a central element of our preventive challenge in America."
With such an entrenched gun culture in the United States, Vermund said implementing stronger gun safety policies and preventing gun violence through advocacy, evidence-based research, and integrated political action is going to take time. He praised leaders like Stein, Peterkin, O'Neill, and moderator Mary Bernstein from UConn, among many others from Newtown and around the state, for making Connecticut a national leader in gun safety programs and legislation.
"There is a lot of tension in our country between individual liberties and social good," Vermund said. "Look how long it took to eliminate smoking in airplanes and offices. It has taken us a long time to require seatbelts, car seats and airbags. We are slow in prevention when it clashes with someone's perceived right to take risks. That's why I use the term 'gun safety' because that's where I think we can make some progress in terms of gun control and perhaps get a better handle on reducing or mitigating gun violence that so often, as with second hand smoke, affects a person who does not even own a gun, without alienating those who have a very strong position about having a right to own a gun."
Submitted by Colin Poitras on March 25, 2019