When Dr. Mary Travis Bassett earned her M.P.H. from the University of Washington in 1985, she didn't stick around for graduation. While others were at commencement, Bassett was already off to Zimbabwe, where she would begin a life-changing 20-year career.
As the keynote speaker at the Yale School of Public Health's 2019 commencement Monday, Bassett shared the anecdote as an appropriate lead-in to an impassioned speech that urged students to follow their hearts, have courage and use their newly acquired knowledge to go out and confront the pressing public health issues impacting lives around the globe.
A former commissioner of the New York City Department of Health and Mental Hygiene and current director of the François-Xavier Bagnoud Center for Health and Human Rights at Harvard University, Bassett has spent her career fighting for social justice and health equity. She launched HIV prevention programs in Zimbabwe, addressed structural racism in New York City healthcare, oversaw child well-being programs in Africa and earned numerous public health awards along the way.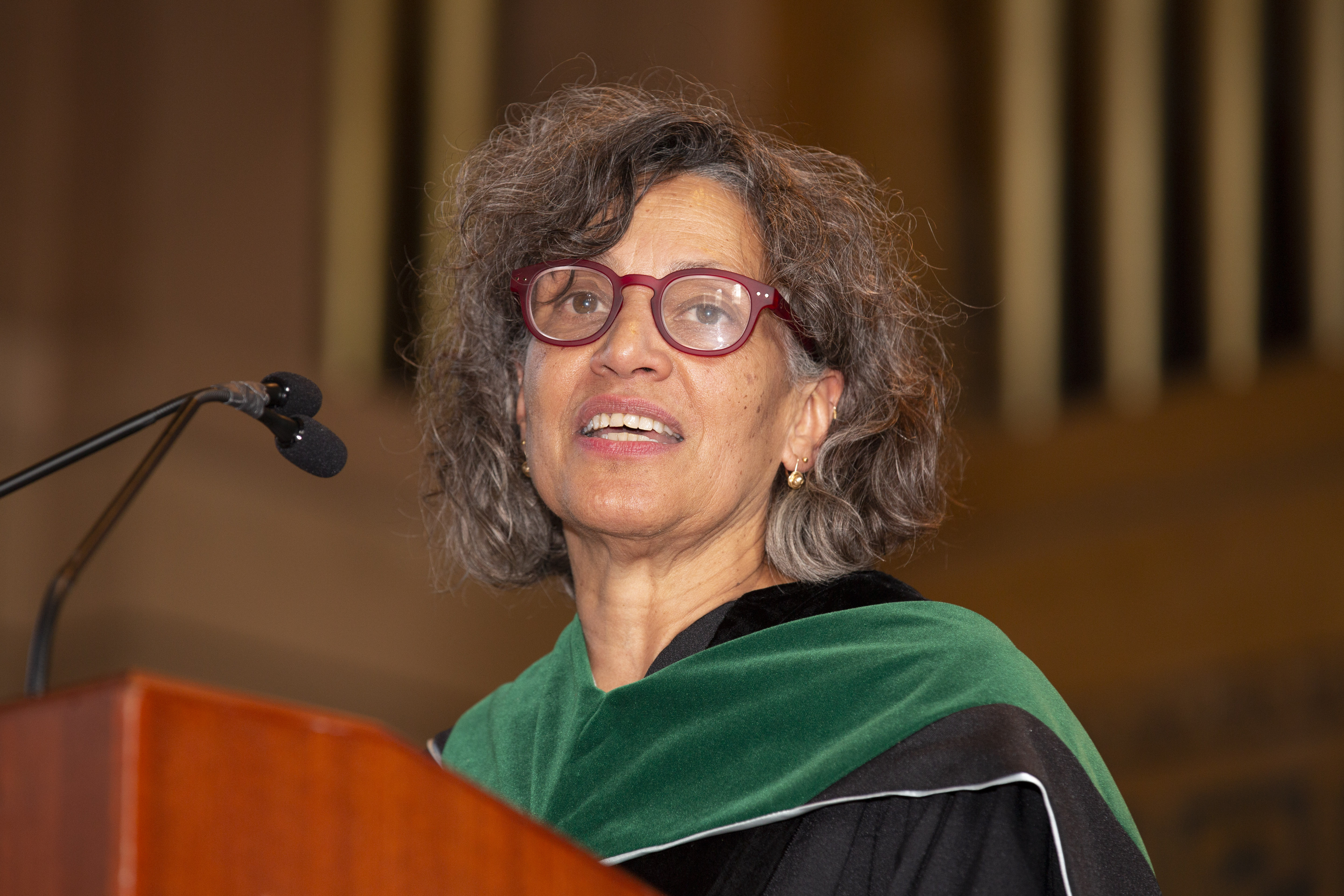 Bassett's message to the 229 YSPH graduates receiving diplomas was that if she could do it, they could too. With U.S. life expectancy declining for the third year in a row, maternal mortality rates rising and U.S. incarceration rates five times higher than other developed nations, there is plenty of work to do, Bassett said.
"This is the big picture, the broader challenge that awaits you as you leave the classroom," Bassett told students, family and friends gathered in Yale's iconic Woolsey Hall.
"At its best, public health changes lives, saves lives," said Bassett. "You are encountering a difficult world. As someone with 35 years of public health experience, I regret that I can't offer you a better one, but this is your world to change too. I know you have the skills. I know you have the commitment. So, go for it, Class of 2019. Speak up! Speak out!"
Dean Sten H. Vermund echoed Bassett's theme of social justice and purpose in his opening remarks.
"There are few vocations that have more potential for contributing to the public good and enriching your own lives," Vermund said. "A public health professional can go to work each day knowing the difference that they make in our world."
YSPH Social and Behavioral Sciences student Sophie To provided the student address. She praised her fellow graduates for spearheading initiatives that made the Yale School of Public Health more inclusive during their time there — from designating more gender neutral bathrooms to setting meaningful programming for students and alumni of color to having the school provide free menstrual products to all students who need them.
"We have not only forged a strong community among our class but have engaged thoughtfully with communities locally and all around the world," said To, who conducted research to benefit low- and-middle income communities in Samoa and New Haven during her time at YSPH. "At the end of the day, we are all united in the fight for health equity, for social justice, for a better world for future generations. And to do that we must always remain humble and open-minded and never, ever lose that burning desire to learn."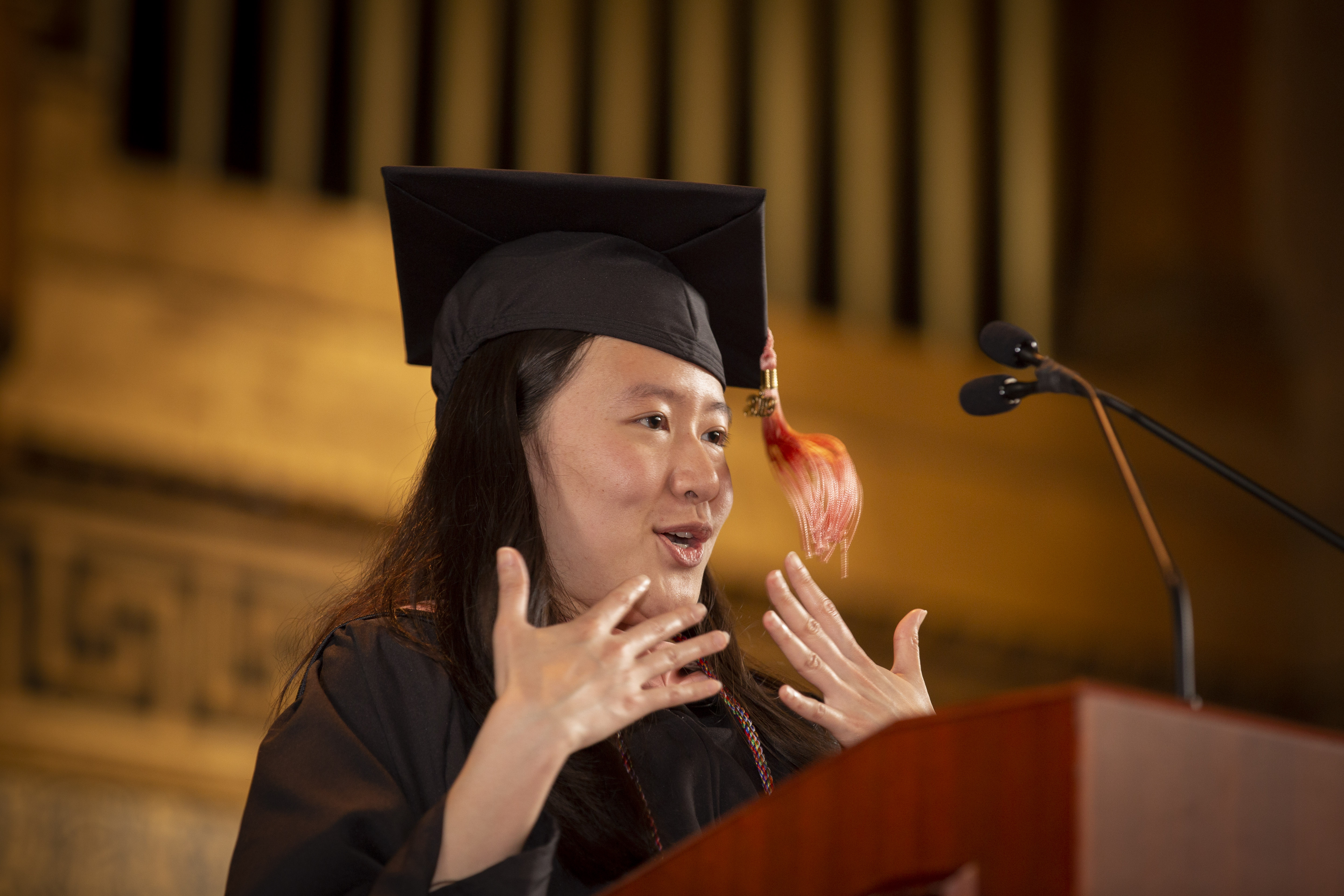 In a separate ceremony earlier in the day at the Graduate School of Arts and Sciences, 33 students with a public health concentration received masters of science and doctor of philosophy degrees.
During the sometimes boisterous event, some public health students chanted "Vaccinate your kids!" in response to recent measles outbreaks that are believed to have been caused by parents' decisions not to vaccinate their children.
To see a video montage of photos from the Yale School of Public Health's 2019 commencement, please go to https://youtu.be/vO7cgExommw.
Submitted by Colin Poitras on May 21, 2019