As an emergency medical technician in rural Vermont, Yale School of Public Health student Taiga Christie saw first-hand how emergency workers' lives are impacted by stress, trauma, exhaustion and other demands of their jobs.
Realizing a need to bring more attention to first responder mental health, and with an existing interest in the dramatic arts, Christie decided to incorporate the struggles of emergency workers into a play that would eventually serve as her master's thesis.
"Counting Pebbles," premiered this spring with a benefit March performance at the Yale Cabaret.
The play tells the story of a group of rural emergency medical services (EMS) providers struggling to deal with the loss of one of their own in a fatal overdose. The play is based on EMS provider stories drawn from interviews, personally witnessed by Christie and other artists, and shared via the national Code Green Campaign, which promotes mental health education and advocacy for first responders and all emergency workers. Counting Pebbles was produced in collaboration with the Code Green Campaign.
"Trauma, addiction and mental health struggles are still stigmatized in EMS," said Christie, a second-year M.P.H. student in the Department of Social and Behavioral Sciences. "This play was meant to humanize some of these experiences, and to recognize that they're widely shared. This is a systemic issue that affects so many providers, but it can still be so difficult to talk about. We hoped the play would provide a space to share these stories."
Christie conceived the project in 2012 and began crafting the play with members of Faultline Ensemble, a small Oregon-based theater company made up of artists and health workers, in 2016. The spring performance at Yale Cabaret included Faultline artists, Yale School of Drama students and first responders from New Haven and beyond. The play was intended primarily for audiences of EMS providers and health workers. Christie and the other artists engaged in feedback sessions with audience members – many of whom were representatives of the emergency worker community – after each performance.

"This project has been collaborative from the beginning," said Christie, who served as the play's director. "Interview participants, script editors, local EMS advisors, artists, Code Green Campaign staff, academic advisors, and performers have all impacted its development."
The title of the play, Counting Pebbles, comes from a metaphor related to Christie years ago, and quoted in the script: "If each patient's weight is a boulder, you can only carry a few before you're buried. But if you can just take a pebble from each person, that's not much weight, right? So I try to just take a pebble from each patient. Just a little bit of that patient's memory that I'm taking with me. Maybe they'll add up and be too heavy after a while. But I can carry a lot of pebbles before I get buried."
The characters in the play highlight different emotional and mental health stressors members of the first responder community deal with – from survivor guilt to burnout, substance use, and financial strain. An unwritten code of resilience and a reluctance among first responders to share their personal feelings and stress only heightens tensions and suffering.
"Right now, we're the cowboys," says the character, Elliot, a new EMT with Mike's fictional EMS crew in the play, "EMS has been the cowboys from the beginning. And I love that acute situation where I need to think. Quick. But maybe there's a better way to do this, where we don't run ragged and burn out."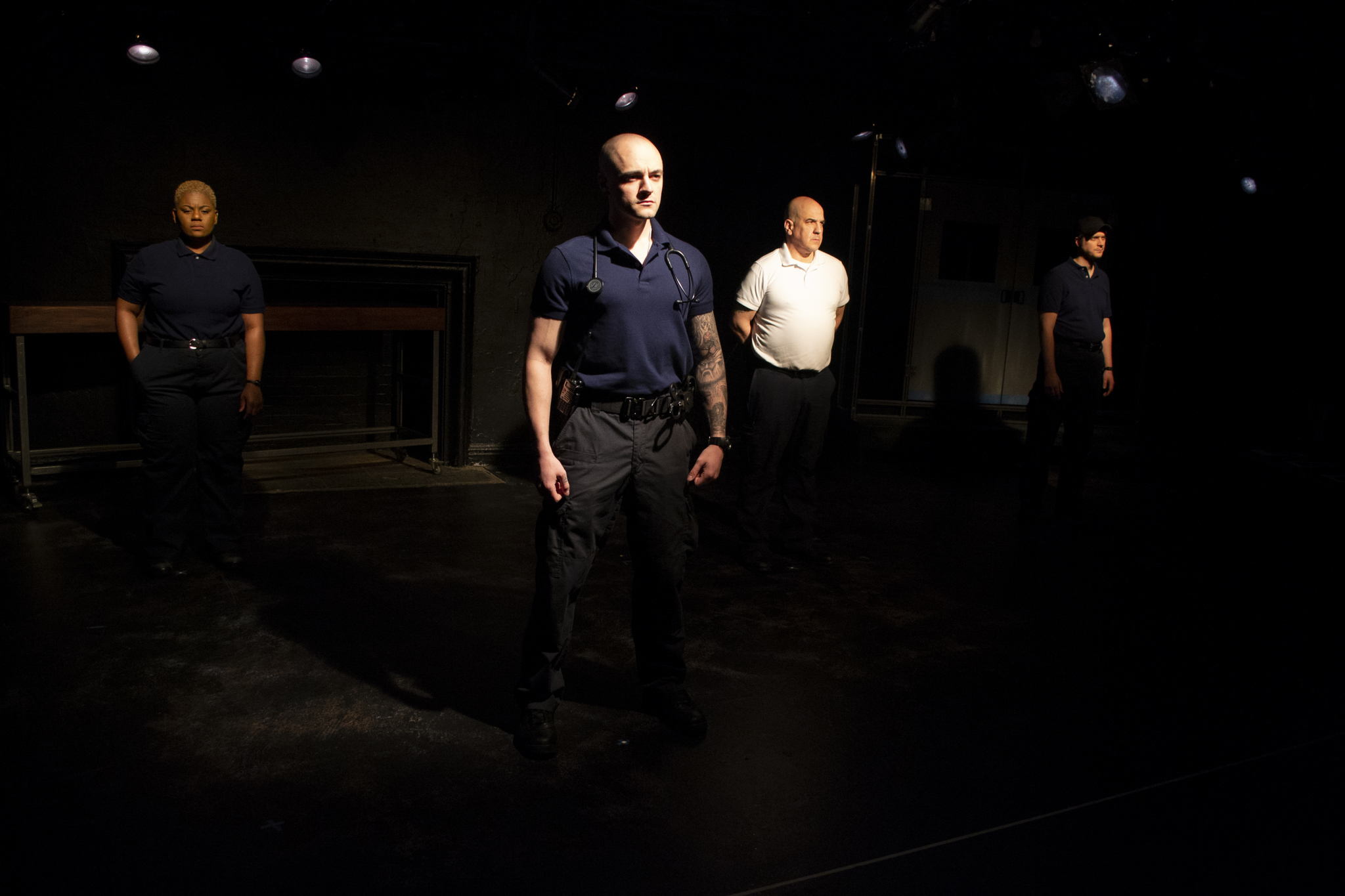 Yale School of Public Health Professor Judith Lichtman, Ph.D. '96, MPH '88, who is investigating ways public health research can be better integrated with the arts and humanities, praised Christie's effort.
"Christie's work illustrates how theatre is an excellent medium to share important public health "stories" to a broader audience, particularly as they give voice to timely topics such as the opioid epidemic and social stigma," Lichtman said.
The project was made possible with the support of the New Haven Mayor's Community Arts Program, the Schell Center for Human Rights, the Yale School of Public Health Social and Behavioral Sciences Research Fund, the Tsai City Fund and the generosity of an anonymous donor.
Submitted by Colin Poitras on April 30, 2019